We love making new friends...
Sawubona! That's how to say "hello" here in Eswatini (formerly named Swaziland), the country I'm visiting this month. The official name of the country is The "Kingdom of Eswatini," which means "place of the Swati people." Eswatini is the name for the kingdom in the language the Swati people speak, called "Swazi (siSwati)." Here's a link to a webpage that has some basic phrases for you to learn.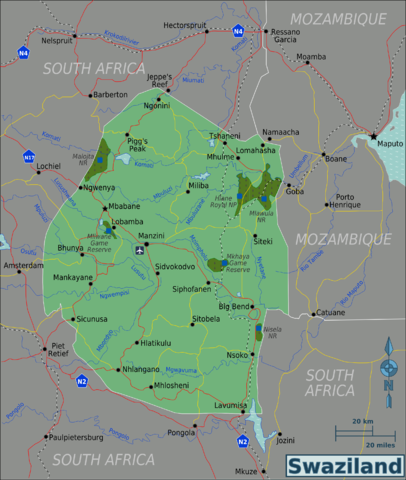 Photo of Map Above By User:(WT-shared) Burmesedays, Perry-Castañeda Library Map Collection Swaziland Maps (:image:Swaziland Regions map.svg) [CC BY-SA 3.0] via Wikimedia Commons
This is such a pretty place, and it has a lot of different types of land all crammed together in the small country (slightly smaller than Wales in the United Kingdom). From the mountains in the east next to Mozambique, to savannas in the west, and even a rain forest in the north. Almost like my home in West Sumatra!
I decided to land in the city of Lobamba. This is where the Houses of Parliament are located and where their royal families have lived for over 200 years. In fact, Eswatini is the continent of Africa's last remaining monarchy, and that means they have a King and a Queen that rule with the help of a Parliament, a group of people chosen to represent most of the people of the country. Their current King is King Mswati III and you can click here to learn more about him.
Because Eswatini is below the equator, right now it's fall here, a little chilly and even a little rainy. Good thing I brought my fur coat to keep me warm!
The first place I went was the National Museum, where I could learn all about the people, culture, and amazing things to see and do here. While I was visiting the museum, I met a couple of young kids, a boy named Itembe and a girl named Qiyana. They were visiting the museum with their family. They told me about how their family was headed north to go on the canopy tours, also called a zip-line tour. I was super excited to see the rain forest, so when they invited me to go with them, I of course said yes! Their family was so friendly and nice and told me so much about Eswatini that it is hard to remember it all. 
Blue Wildebeest and Impala in Mlawula Nature Reserve-Photo By K Braun (K Braun) [Public domain], via Wikimedia Commons
Eswatini is a popular tourist spot in Africa because of the rich culture, amazing nature preserves with incredible animals, and adventures like the canopy tours, river rafting, and cave exploring. There's even a cave with paintings that are from long-lost cultures! Eswatini also features  festival this month called the Bushfire festival, and it's all about exploring the different cultures of Africa.
Photo By John Atherton (Portable market hut, Mbabane, Swaziland) [CC BY-SA 2.0], via Wikimedia Commons
Check out this coloring page with me and some of the fascinating animals that can be found in the many nature reserves in Eswatini! Eswatini is one of the few places that you can find endangered black and white rhinos living close to each other. I got to ride one, but don't try that yourself! I got special permission because I'm an animal too! If you color the page and ask your parent, guardian or teacher to send it back to me, I'll post it on my website!  There's a lot to find and seek here in the nature reserves, so I included a fun birdwatching activity on my coloring page for you to enjoy!  Can you find all 5 purple-crested turacos (Eswatini's national bird)?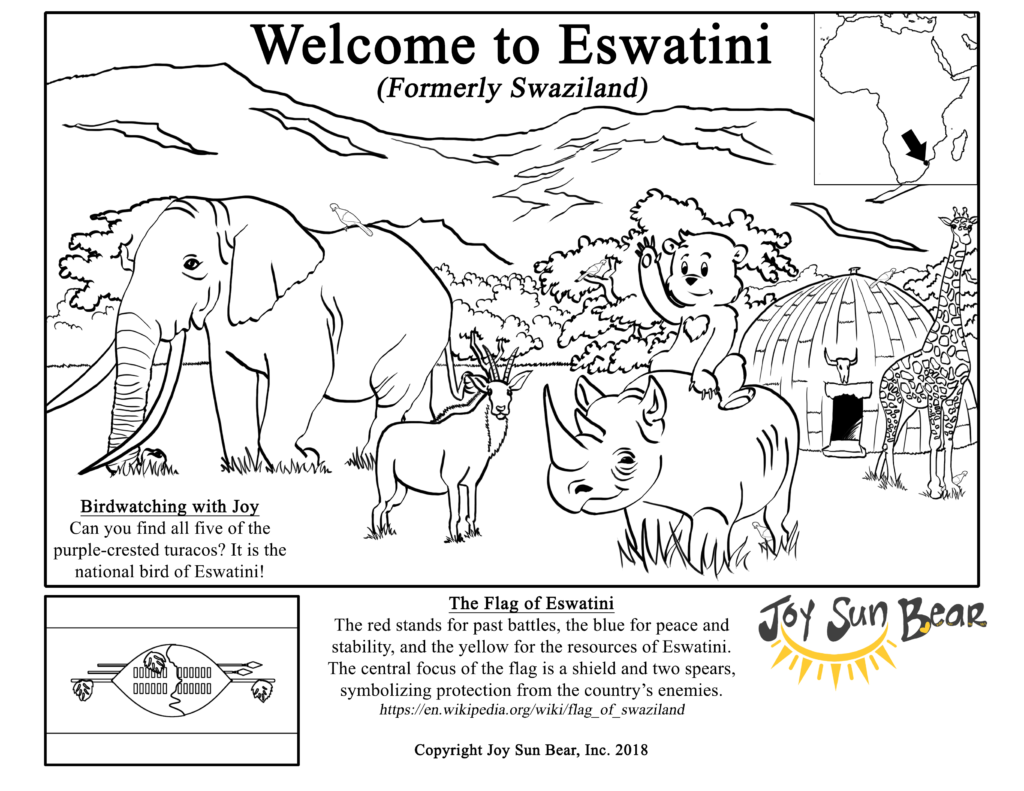 Eswatini is also very well known for its handicrafts. From painting and sculptures, to textiles (batiks) like tablecloths and clothing, to their famous glass blowing factory that uses all recycled glass, Eswatini is full of beautiful things!
I wanted you to be able to see the beauty of Eswatini in addition to hearing my adventure, so the nice people at Eswatini Tourism (formerly Swaziland Tourism) made the video below to give you a look into their wonderful country. Enjoy!
I also wanted to share with you how the language of Swazi (siSwati) sounds, so you get a better idea of how people talk here.  The video below shares common greetings in Swazi (siSwati) and also how to count to ten! 
I can't wait to share more of my adventures with you! Come back next week and I'll be able to tell you about the food in Eswatini, my canopy tour, cave-exploring adventures and more with you!
My friends at Kids Travels Books have found some great books where you can learn more about Eswatini and it's amazing nature, people and culture.  
Thank you (ngiyabonga) for visiting!
-Joy Sun Bear
We love making new friends... Please share us with yours!

Please share us with yours!