We love making new friends...
Salam friends! سلام دوستان
Wow, I am stuffed! Nowruz, the Persian New Year, was filled with so much good food that I think my red air balloon is going to have some trouble lifting me to my next destination! I had a great time with Ali, Bahar, and their whole family. Turns out Ali and Bahar's aunt - they call her Khaleh (kha-leh) - knows a lot about different kinds of Persian food and where it comes from. We had a great talk about it and she was able to tell me all sorts of interesting information.
Iran's land can be very rocky in some areas, and that makes it difficult to grow food.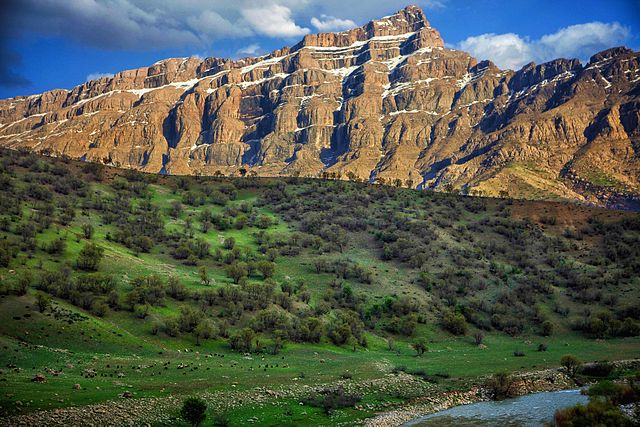 Photo of Oshtaran Mountains, Lorestan, Iran By https://www.flickr.com/photos/ninara/ [CC BY 2.0 ] via Wikimedia Commons
Because of this, crops of wheat, rice, sugar plums, fruit and nuts are mostly grown in the north, northwest and west regions of the country. Iran also grows a lot of cotton, as well as saffron, an amazing red spice that gives Persian food that golden glow! Just like many countries these days, Iran has a lot of different kinds of animals as livestock, but most common are the sheep that they can get wool from. Because the law of the land is based off the most common religion, Islam, they don't raise any pigs because Islam forbids eating them. 
Sheep Herders Block the Road - En route from Kaleybar to Eskanlu - Iranian Azerbaijan - Iran
(Photo By Adam Jones [CC BY-SA 2.0]-via Flickr).

Yesterday Ali shared some of his lavashak with me, a tasty Persian treat made from dried fruits that have been flattened out like paper and then rolled up for fun. Kids love it here! It reminded me of what people in other parts of the world call a fruit roll-up! (Photo to Left By Meine Wanderlust-(CC BY-ND 2.0) via Flickr). 
His Khaleh makes them at home by cooking different kinds of fruit, then blending it into a syrup and pouring it out flat to leave it in the sun for four days! The best ones are a little sweet and tart, but they are all fun to unroll. Some of them even unrolled as long as my tongue! If you would like to make your own Persian lavashak at home, try this recipe from My Persian Kitchen.
Speaking of family relations, I got to spend a lot of time with Ali and Bahar's grandparents, who were living with them. In Iran, it is normal for the grandparents to live with the family, rather than on their own or in a retirement home. Families are very close as well, visiting extended family a lot and having lots of get togethers, so cousins tend to know each other very well.  Ali and Bahar have a huge family with 16 cousins! Can you imagine going to more than 16 birthday parties in one year? Now that's a lot of birthday cake! 🙂
Today, I visited Ali and Bahar's schools to learn more about Iran. Bahar goes to a girl's school while Ali goes to a boy's school. Here in Iran the schools are separate, or segregated, by gender for grade schools and high schools. 
Bahar goes to one of the many public primary schools in Iran, for kids that are 6-12 years old. Before leaving the house, Bahar put on her hijab, a scarf or veil, used to cover her head. Hijabs are sometimes worn for religious reasons, sometimes just to be modest, but must always be worn by girls and women outdoors because that is the law here. Girls must start wearing a hijab in Iran starting in 1st grade. Today, Bahar's teacher was discussing diversity in Iran, and how there are many Afro-Iranians - Persians of African descent - who came to Iran either by the old slave trade (which was outlawed in 1929) or to become sailors in the southern region of Iran. Although most Afro-Iranians stay near the Hormozgan province near the Persian Gulf, I think it is wonderful to see diversity in any country! Here's a video about kids starting grade school in Iran (all videos in this blog are courtesy of PressTV Iran):
Ali has moved on to a nearby high school this year, for kids that are 12-18 years old. He's hoping to participate in the school's annual project exhibition with an idea for a trash collecting robot. Here's a video of the exhibition from a few years ago with some amazing creations that could one day help our world:
Ali's friend, who has Persian parents but was living out of the country in Colombia for awhile, has come back and is studying at the international school.

Going back to food, one of my favorite subjects, I wanted to share an interesting dessert that I tried while staying with Ali and Bahar. It was a rice pudding calledsholeh-zard (show-leh-zard) that Khaleh made that I really enjoyed. It's a light, sweet dessert made from softened rice, almonds, and saffron with some yummy cinnamon on top. I loved how they used the cinnamon to create beautiful designs on the sholeh-zard. It looked too good to eat, but after smelling it again, I couldn't resist digging in! Family Spice has a great recipe that you can try with your parents sometime. Your parents will have to do most of it, but you'll be able to help with the measuring, pouring, stirring, and decorating! Don't forget to please ask your parent, guardian or teacher to send me a picture of your sholeh-zard creation so I can show all my friends around the world how amazing it turned out!
Sholeh-Zard Recipe
Ingredients
1 1/2 cup basmati rice, uncooked

8 cup water

1/4 tsp salt

3 cup granulated sugar

1/4 tsp saffron, crushed

2 TBS water, hot

1/4 cup butter, unsalted, melted

4 TBSP almond slivers

1 tsp cardamom, ground

1/4 cup rosewater

1 tsp cinnamon, ground

2 TBSP pistachios, (optional)
---
Photos Above By Joy Sun Bear, Inc. (www.joysunbear.com)
Instructions
In a medium-sized bowl cover with water:

1 1/2 cup basmati rice , uncooked

Gently wash the rice by stirring the rice in the water with your hand. This helps wash some of the starch and grit out. Pour out the water and repeat two more times.

Drain washed rice and place in a 5-quart non-stick pot with:

Bring it to a boil, skimming the white foam from the surface as it forms.

Cover and simmer over medium heat for 30 minutes or until rice is completely soft.

Stir in:

Cook for 20 more minutes, stirring constantly.

While rice is cooking, combine in a small bowl and reserve:

1/4 tsp saffron , crushed

2 TBS water , hot

After rice has cooked for 20 mins, add saffron and:

1/4 cup butter, unsalted , melted

2 TBSP almond slivers

1 tsp cardamom, ground

1/4 cup rose water

Cover and simmer on low heat for 45 minutes, stirring occasionally until mixture has thickened to a pudding.

Pour saffron pudding into a shallow serving dish or spoon into individual serving bowls.

Garnish with:

1 tsp cinnamon, ground

2 TBSP almond sliver , (optional)

2 TBSP pistachios, (optional)

Chill in refrigerator until set, about 2 hours.

Serve cold.
 That's it friends! Have fun, enjoy and see you next week!
Khoda hafez خداحافظ 
Your friend,
Joy Sun Bear
 

We love making new friends... Please share us with yours!

Please share us with yours!