We love making new friends...
 "May love and laughter light your days, and warm your heart and home. May good and faithful friends be yours wherever you may roam..."
-Irish Proverb
Dia dhuit (hello) friends! I had a great time here in Ireland this month. In my first blog of this month, I landed in Dublin, Ireland's awe-inspiring capital city, and then to County Kerry, where I hunted for four-leaf shamrocks in front of a Ross Castle. In my second blog, I went on a food tour and learned all about Ireland's fascinating food history. And in my the third blog, I visited Galway, the City of Festivals, and saw the Galway International Arts Festival, a colorful and exciting event filled with art, music, and theatre!
Cliffs of Moher-Photo courtesy of marybettiniblank [CC0 1.0 Universal (CC0 1.0)] via Pixabay
The one thing I didn't get to tell you all about yet are the kind people of Ireland. Every Irish person I have met has been friendly, helpful, playful, humble, easy going, and they all love smiling.
Image by Tiffany Washko from Marion, USA (Smile) [CC BY 2.0], via Wikimedia Commons
Oh! Speaking of smiling, these pictures made me smile! They're from some toddlers in America who wanted to make some Celtic knot crafts, so they sent me these pictures. So pretty! It always puts a BIG smile on my face when I receive your artwork and messages!
Everywhere I went in Ireland, nearly everyone I spoke with treated me like a friend. Most of them didn't even seem scared of a talking bear! There was the policeman in Dublin who spent ten minutes telling me everything I should see there, with a big smile the whole time. There was the gardener at Ross Castle who was more than happy to tell me the entire history of the castle. There was Caitlin and Aidan's mom, who was so welcoming and offered me tea nearly as much as my friends in Iran did! Irish people just seem to enjoy smiling, which is good because smiling is really good for you!

Smiling can help your body in a lot of ways. It makes you feel better. It can help your health. People around you feel better when you're smiling too! Sometimes, if you don't feel good, it helps to just close your eyes and smile. Hold the smile and breathe, and soon you'll start feeling better. 
Everyone in Caitlin and Aidan's house was very easy going and relaxed, and I noticed that most everyone else I met there was too. They just didn't seem to take things too seriously. Maybe it's their faith, but they seem to just believe that everything will work out for the best. I like that perspective, because when you look at challenges that way, it's usually easier to find the solution.
Part of the Irish easy-going nature is not making a big deal of things, good or bad. For example, Caitlin's Dad is a very good wood carver, and while I was there he was finishing up a really detailed sculpture. When I complimented him on it, he just said, "oh, thank you, it's nothin' really, just a practice piece." This is called being humble, not making a big deal out of something good you do. When Irish people are humble, it's because they don't want to come off as a braggart, or someone who talks too much about themselves in a good way.
Photo courtesy of 2230405 [CC0 1.0 Universal (CC0 1.0)] via Pixabay
Another example is Aidan. His left arm was in a cast, and when I asked him about it he said it was just a tiny fracture and it would heal soon, but his sister told me it was actually worse. Irish people tend to not say much about their problems because they don't want to burden others with their troubles. This is nice of them to be concerned about others, but it's important to remember to ask for help when you really need it. From what I've seen, people who don't complain much tend to be happier, because they're focused on the things that make them happy instead of the things that make them sad.
The best part of meeting my new Irish friends though was how much they love to laugh! Sometimes they make jokes, sometimes they laugh at their own stories, and sometimes they tease each other in a custom called slagging. Slagging isn't meant to be mean, and shouldn't ever be rude, because it's just a friendly teasing between friends. If you can get slagged and laugh about it, people will see you as relaxed and easygoing. If you can slag back, you'll be seen as a fun person to hang out with. Aidan liked slagging with me, and he'd joke a lot about how the humidity was going to turn me into a walking fur-ball! Hahaha!
Laughing is so good for you. It helps your body even more than smiling by itself. The best laughing is laughing you do with other people, because when you both share a laughing experience, you become connected. Laughing makes an experience with a friend even more special. So go ahead and laugh! You don't even really need a reason, sometimes laughing just to laugh is all it takes to make the day brighter! 
After spending some time here, I was inspired to come up with some creative ways that you share laughter with someone else. All my Irish friends showed me how important laughter was, and I can't wait to spread that idea wherever I go.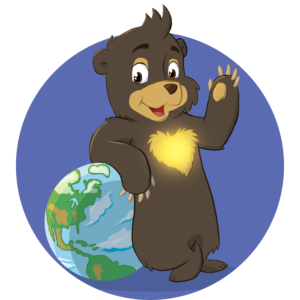 What Makes Joy Sun Bear Laugh?
"I love laughing, so as you can tell, visiting the Irish people was a real treat for me. I love playing harmless tricks on my big sister, Ayu, and making silly faces to make my friends laugh! I even love laughing at myself when I accidentally stumble while running through the rain forest."
Before you go, check out my new video below about unity! Unity is when people work together to do something that they couldn't have done alone. Our world can definitely use more unity!! Meet Lily - she's my very special friend who hopes to make the world a better place with me. Let's help them make the world a better place, together!
Thanks again for visiting! 
Slán (goodbye) from Ireland friends and have a great week!
-Joy Sun Bear
We love making new friends... Please share us with yours!

Please share us with yours!